Captain Douglas Miller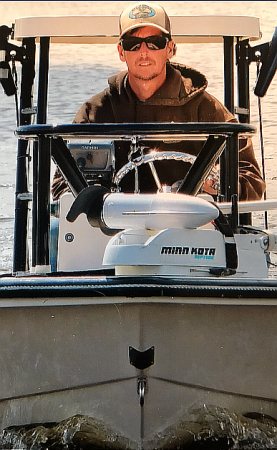 Capt. Douglas Miller is a native Georgetonian. He grew up in DeBordieu Colony, living there for 23 years since the age of 3. Living in one of the first four homes on the island, the roads were dirt and the tidal creeks of North Inlet were his backyard. As an eight year old, Douglas began taking his 14' jon boat into the salt marshes. He fished, oystered, clammed, shrimped, and hunted ducks and marsh hens. Selling mud minnows from his dock on DeBordieu canal, for $1 a dozen, was his first job.
Douglas currently lives in downtown Georgetown with his wife, Aleene and two young boys, Elliott and Chappell; which all have a taste of salt in their blood. Many days are spent at North Inlet aboard their house boat "Miller Hilton".  It is there that he loves to watch his young ones armed with cast nets, fishing poles, and crablines learning the ways of life in the salt marsh.
Capt. Douglas is also a full branch licensed bar and harbor pilot for the Port of Georgetown, navigating deep draft cargo ships in and out of Winyah Bay.
Captain Miller also actively fishes the South Carolina Governors Cup Billfishing Tournament Series, having placed in numerous tournaments. During a 2005 tournament, Douglas was fortunate to be the 1st mate on board as they caught an 881.8 lb. blue marlin, breaking the state record, which still holds today.  While he will always have a strong passion for offshore fishing the blue water, Douglas always feels his home is in our pristine salt marsh.

The Big Marsh is an integral part of the Miller Family lifestyle...

Big Marsh Boats
17' maverick flats skiff (2 adults or 1 adult & 2 children)

19' cobia bay boat (up to 4 guests)